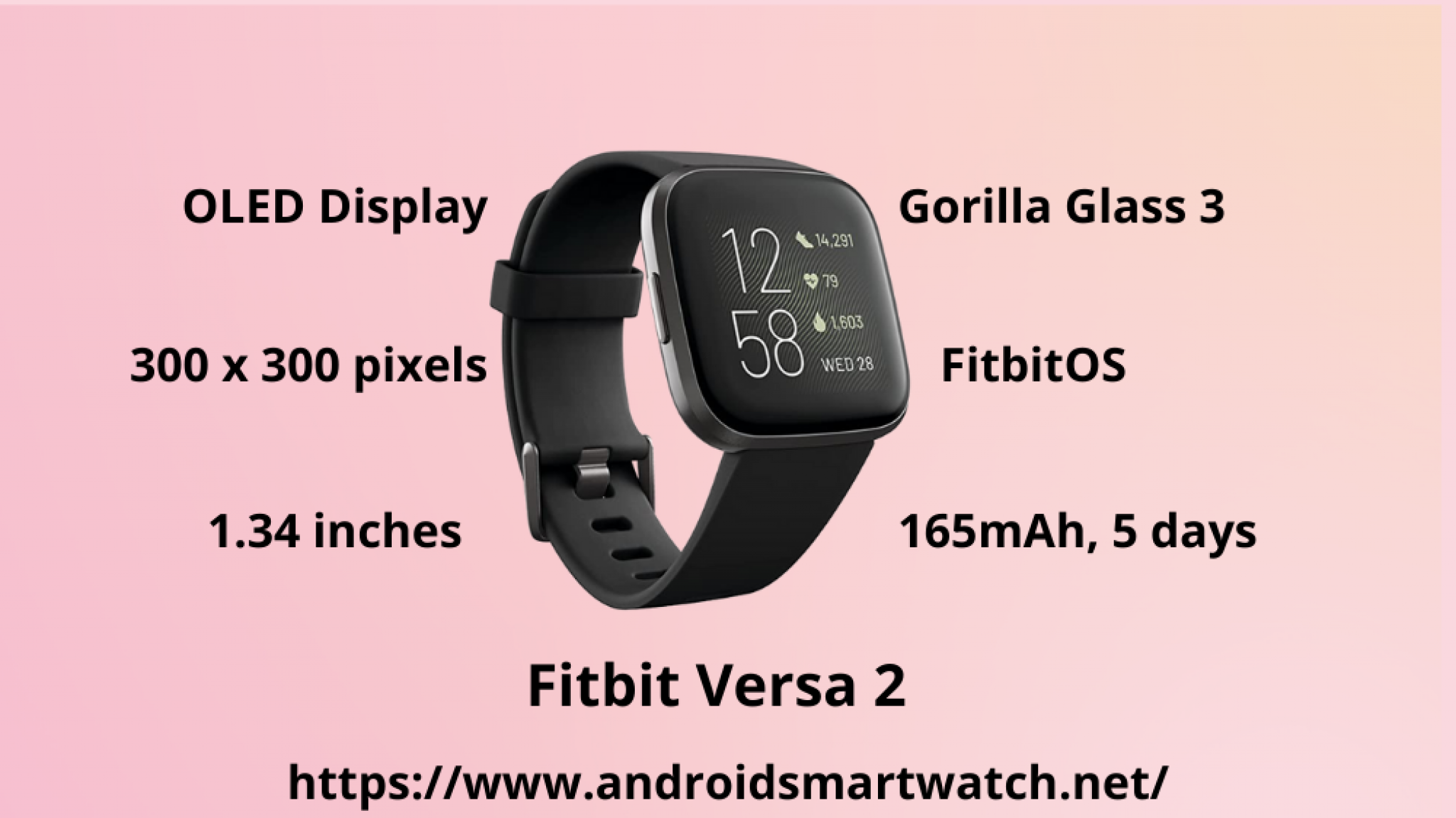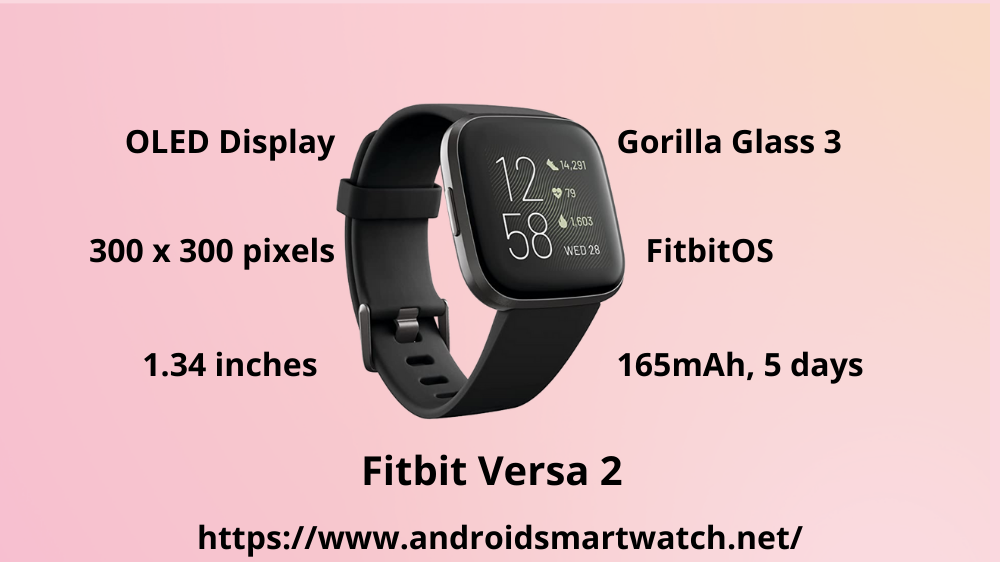 The Fitbit Versa 2 is a smartwatch announced in August 2019. Equipped with a 1.34-inch OLED screen, it runs a FitbitOS operating system with an average battery life of 5 days. It offers advanced connected features with the integration of Alexa, Spotify and Deezer.
We have tested the Fitbit Versa 2, a smartwatch with great battery life and detailed activity, sleep and health tracking.
The market of smartwatches is very competitive. Apple were taking the good share with almost 50% of the market, followed by Samsung and finally Fitbit, whose acquisition by Google is in progress . Before this deal was finalized, we took a look at the fitness brand's latest smartwatch, the Fitbit Versa 2. Design, features, battery life, here's our full review.
Fitbit Versa 2 Smartwatch Specs
Display Details
| | |
| --- | --- |
| Screen size | 1.34 inches |
| Screen type | OLED |
| Screen Resolution | 300 x 300 pixels |
| Screen Design Shape | Rectangular |
| Screen protection | Gorilla Glass 3 |
| Touchscreen | Yes |
| Color screen | Yes |
Hardware Details
| | |
| --- | --- |
| Dimension | 39.84mm |
| Weight | 38 grams |
| Operating system | FitbitOS |
| Compatible Smartphones | Android, iOS |
| Battery capacity | 165mAh |
| Autonomy | 5 days |
Connectivity and Sensors Details
| | |
| --- | --- |
| Bluetooth version | 4.0+LE |
| GPS | No |
| NFC | Yes |
| Wi-Fi version | 4 |
| Accelerometer and electronic compass | Yes |
| Ambient light sensor | Yes |
| Sleep analysis | Yes |
| Pedometer | Yes |
| heart rate sensor | Yes |
| SpO2 sensor | Yes |
| 4G compatibility | No |
Fitbit Versa 2 Pros & Cons
Positive
Discreet
Great Standby
Effective follow-up
The Fitbit app
Negatives
Borders still a bit thick
Restricted application offer
No GPS
Detailed Review of Fitbit Versa 2
Design of Fitbit Versa 2
It is true that the Fitbit Versa 2 looks a lot as Apple watch with its square shapes.
However, the differences are quite noticeable when we take a closer look at the two watches. The Apple Watch's iconic rotating crown gives way to a single push button on the left side, the Fitbit Versa 2 that serves as a button for everything from menu activation to backspace. Through the call of Alexa, Amazon's intelligent assistant. It is more discreet than the three buttons of the first model.
Display Details of Fitbit Versa 2
It finishes are not the same much with apple watch, especially with regard to the screen borders, which are much larger on the Fitbit Versa 2. This is felt a little on the size of the OLED screen which is only 1.4 inches, which gives sides of 2.5 cm, against 4 cm for the sides of the case itself. However, we remain on a very good quality aluminum design that does not mark over time and a Gorilla Glass 3 coating on the whole to provide some protection against scratches.
The screen itself is also of good quality and still offers excellent visibility, even when setting the brightness to "medium". Add to that a very deep contrast which from certain angles makes it possible to forget the large borders and you have a perfect companion to your smartphone for notifications. Fitbit has therefore solved one of the main problems of the first generation here (its LCD screen).
Additional features of Fitbit Versa 2
Like the other two brands in the TOP 3, Fitbit offers its own operating system on its watches, which is both a good and a bad thing. Let's start with the good points.
The interface of the Fitbit Versa 2 is light, which allows it to be very smooth most of the time. However, he sometimes has a few slow, especially after loading his diary for the day (displaying the number of steps, the average heart rate, the last exercises, etc.). By sliding your finger down you see the latest notifications of the applications you want – which unfortunately do not automatically erase when you delete them on the smartphone -, if you slide to the side you access the installed applications, and towards the top we access the daily newspaper.
Among the basic applications of the watch, we find the launch of activity monitoring ( running , cycling, swimming, bodybuilding, yoga, golf, hiking… 20 in total customizable from the application), a timer, alarms, the weather forecast, a relaxation system based on breathing or the control of music. You can then choose applications from third-party developers such as Spotify, Deezer, Strava, Philips Hue, Uber, etc. Unfortunately, and this is the problem, the number of applications available is very limited. For example, I couldn't manage my music from YouTube or Google Play Music (Spotify and Deezer require a paid subscription to connect to Fitbit), forcing me to take out my phone or go through the controls on my headphones whenever I wanted to pause or change tracks.